Home
Talk

12
451pages on
this wiki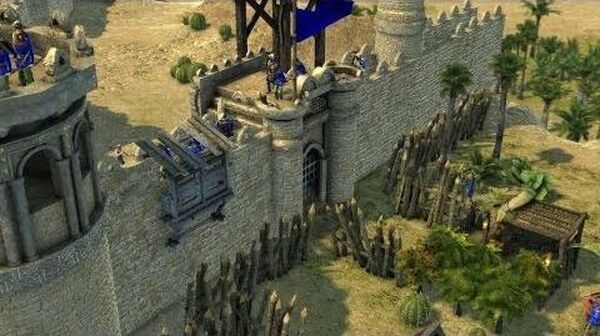 This wiki is designed to help with the understanding of the game series of Stronghold. Included is information about soldiers, buildings, resources, and story. This wiki contains 451 articles and is expanding.

You can help! Join us, create an account, and start contributing, as every bit of information helps. Don't be afraid to edit! New users, please read here.

Consider browsing through the site and read the Simplified Ruleset before you edit. Have fun!

King Richard I, also known as Lionheart, was a great King of England although he spent most of his time in the Holy Land, trying to conquer the Holy City of Jerusalem for the Pope. He appears in Stronghold Crusader and is a tough opponent. He is known to be complimentary, even in defeat proving that he is a courteous man. Read more...
AI Characters,
Stronghold Crusader characters
This is the newsboard for Stronghold Wiki. For archived news, click here.
11th April: Meet Saladin!
A Firefly video introduces the returning Saladin in Stronghold Crusader 2. Nick explains what to know about this lord and his strategies in a lengthy video here.
28th March: Crusader 2 trail published!
Firefly released a Rezzed trailer for Crusader 2! Watch it here! Additional info is found on the official site.
11th March: "Sire, command us!"
The swordsman returns in Crusader 2. Slow-moving but durable, the swordsman retains his hardiness and close-combat capabilities. He is expensive to recruit, but his statistics make him really a backbone of the army. See more here!
28th February: The Oil pot thrower is introduced!
This Crusader 2 unit is the reincarnation of the fire thrower from the original Crusader. It retains its fire throwing ability, causing severe destruction to friend and foe alike. View the official article here!
18th February: Meet the Arab healer!
A new mercenary unit, the Healer is introduced for Stronghold Crusader 2. This all-round unit is capable of healing friendly units, either focusing one particular unit or just helping out everyone. More information here!
6th February: The sneaky assassin returns!
The Arabic assassin will return in Crusader 2! Appearing in Crusader, this is a favourite unit of many, who utilizes a sabre and a grappling hook to launch surprise attacks. See more about him here!
31st January: New Crusader 2 Unit: the Slavedriver
There is just more information about units. The Slavedriver is a leader of some slaves, who move in one group, with the slaves enjoying protection while standing in his aura. Read the full post here!
27th January: Crusader is about to be released in summer 2014
Firefly Studios announced that Stronghold Crusader 2 is going to be published in Summer 2014. With the staff emphasizing on great gameplay and experience, the game also introduces some changes to tweak the gameplay. Read the full post here!
24th January: Meet the Arabian Sassanid Knight!
Not long after the debut of the Templar Knight, the Arabic counterpart of him has been revealed! Firefly describes it as an 'effective rush unit', having medium armor and health. See its detailed description in the official page.
23rd January: Crusader 2 pre-alpha gameplay!
MrZorro3331 and Pascal from Firefly uploaded a Crusader 2 skirmish match upon fan requests. See the gameplay on this link.
18th January: New SHC2 Unit: the Templar Knight!
A new Crusader unit, the Templar Knight is revealed by Firefly Studios! The Templar is the successor of the regular Knight, being fast on horseback and strong in melee combat. Read the whole article here.
16th January: SHC2 publish information
Firefly Studios posted that they will release Crusader 2 on Steam. Steam features will also be included, such as voice chat, achievements and player invites. More info: here.
15th January: GGSGamer SHC2 preview!
Robert Settle and Dave Jewitt from GGSGamer.com had their first time with the alpha version of Crusader 2. See how they experienced the gameplay and their first matches here.
19th December: Community Q&A Video released!
Firefly has just released a new community video about the upcoming Crusader 2 game. As usual, Firefly's Nick is going to answer some submitted questions. Check out the video here!
14th December: The horse archer returns
Firefly revealed that the infamous horse archer will return in SHC2. The horse archer will remain a dangerous unit, being able to shoot while riding fast. Along with a speed painting, find a little update on the Facebook page.

Which game concept in Crusader 2 are you the most interested in?
| | |
| --- | --- |
| | Die Seite für die deutschsprachigen Stronghold-Fanatiker. Hier findet man alle Informationen auf Deutsch! |
| | Русский сайт по играм серии Stronghold. Здесь вы можете найти интересную информацию и факты, а так же увидеть качественные изображения. |