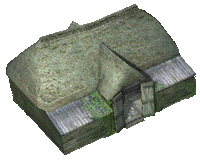 The Stockpile is the place where most of the resources in the game are stored. It consists of layers. Each layer is a square that has space for four piles for resources storage (one pile can hold a limited amount of only one type of resource [for example, one pile can contain approximately 45 pieces of wood]) with a walking space in between them. Up to ten additional layers can be added adjacent to the 1st stockpile, similar to how you can expand the granary.
Stockpile splitting technique
Edit
The stockpile can be split from the keep by deleting the first layer (preferably as soon as the game starts, in order to avoid the waste of resources) and placing it somewhere else, allowing for a better structure of the castle by shortening the distance between the industrial buildings and the stockpile.
Stockpile Table
Edit
Ad blocker interference detected!
Wikia is a free-to-use site that makes money from advertising. We have a modified experience for viewers using ad blockers

Wikia is not accessible if you've made further modifications. Remove the custom ad blocker rule(s) and the page will load as expected.