Mor Lord and mor map...
Crusader
Edit
Skirmish with enemy lords (...) Build, defend, plan your strategy...
In Stronghold Crusader, not only you can play preset missions, but you can fight against different AI lords. You can forge alliances, randomize enemies and set starting conditions and other options.
Crusader Trail
Edit
Fight through 50 linked Crusader games, defeating both European and Arab lords as you progress for victory.

Walkthroughs should only be used if you fail to complete the mission on your own!


Second Skirmish Trail Walkthroughs (Warchest & Extreme exclusive)
Historical Campaigns
Edit

Walkthroughs should only be used if you fail to complete the mission on your own!



Follow Europe's main army along the route of the first crusade and learn the ways of the desert.
New to castle building? This simple campaign will teach you the basics.


Drive the crusaders out of Palestine with Saladin's Arabian army before there power becomes to great.
Learn the way of the Arabic Fighters and how to use there special abilities.


Follow the kings of Europe in the third crusade and defend the realm from the devastating Arabian weaponry.
This campaign will teach you how to fight against the deadly desert warriors.


Fight your way through crusader states bringing arms to bear on the king's enemies.
Learn the basics of Crusader play.


Other Walkthroughs
Edit
Videos from youtubers and other websites providing information to help complete The Historical Campaign and Crusader Skirmish Missions.
www.youtube.com/show/strongholdcrusader is a useful link. This is a series of videos played by SergiuHellDragoonHQ and contains walkthroughs for all the missions from the Crusader and Warchest trails.
Castle Builder
Edit
Build peacefully, with just the camels for company!
Custom Scenarios
Edit
Design and play your own maps.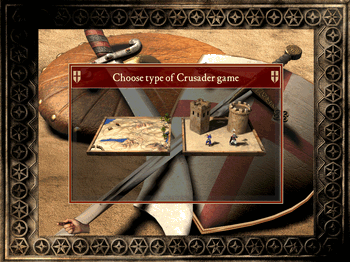 Ad blocker interference detected!
Wikia is a free-to-use site that makes money from advertising. We have a modified experience for viewers using ad blockers

Wikia is not accessible if you've made further modifications. Remove the custom ad blocker rule(s) and the page will load as expected.