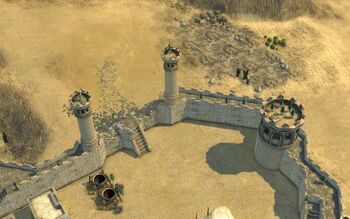 The
tornado
is an in-game event in
Stronghold Crusader 2
.
Description
Edit
Tornados or whirlwinds are common sight in the desert. In flat areas a breeze can easily strengthen to a tornado, tearing everything apart in its way.
Such events will affect skirmish games (and castle builders) in a same manner. Tornados may randomly strike and destroy structures and people, which will also come with an unwelcome negative popularity. This event seems to be very destructive, although the damage caused by it would affect a small area.
The tornado can be either turned off or turned on in skirmish matches.
Ad blocker interference detected!
Wikia is a free-to-use site that makes money from advertising. We have a modified experience for viewers using ad blockers

Wikia is not accessible if you've made further modifications. Remove the custom ad blocker rule(s) and the page will load as expected.